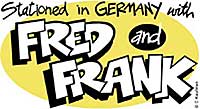 Cartoons from the year 1986
Fred & Frank cartoons were published during these months in1986. Click on the link to view the comics - (a new window will open with each cartoon):
---
NOTE: These comics are for your own viewing here on this website, I request that you don't copy them onto another website, CDs, book, other publications (electronic or print), t-shirts or where ever.
All are copyrighted by Charles Kaufman and I reserve all rights to all the cartoons and characters.